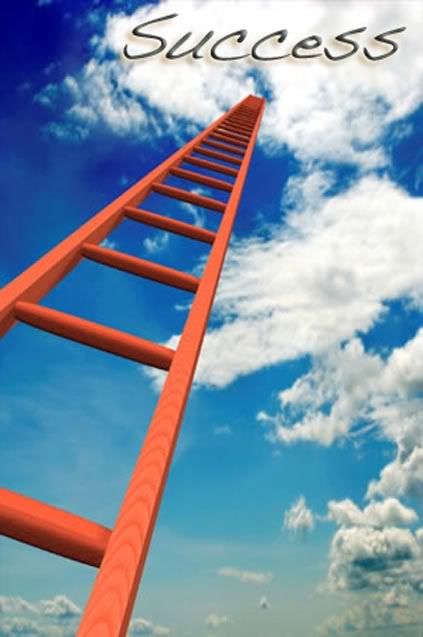 Success is defined as "the achievement of something desired, planned or attempted". The second definition I found for success was, "The attainment of popularity or profit". Personally I think both of these definitions don't even come close to what success truly means.
Success is all about your mission in LIFE, and about the peoples lives you affect in a positive way on a daily basis. One person can make such a huge impact on another's life it can change it forever. But in reality to make a deeper impact on people you must become "well known", "popular", or "rich". It's sad but oh so true! This takes me into the main purpose of this article so pay attention.
I've been climbing my ladder to success since I can remember trying to become that "well known" person. I've encountered all sorts of people along the way and still am. I'm sure as a reader of this you can relate to every one of these that I am about to describe.
-Those who try to persuade you off your ladder
These are the people who constantly say you can't do this, or can't do that. They try every reason under the sun on why you should accept things just the way you are and be satisfied with where you are. These types of people will praise others not because the others are better, but because they think it'll get under your skin and make you quit.  JUST KEEP CLIMBING!
-Those who want to pull you down to their level
These people are trying to make it to the top just like you are, but they seem to be making very little progress. It kills them to know that someone out there is working harder, learning more, and doing a better job than they are doing.  They try to kiss your ass, and be your friend to win you over but when everything fails they become your worst critic. Instead of standing FOR who they are and what they represent, their mission becomes standing AGAINST who you are and what you represent.  Always remember you must be doing something right because other people are trying to pull you down. JUST KEEP CLIMBING!
-Those who'll step on you to get to the top
These are the people who see how good you are at what you do and use it to their own advantage. They will steal your ideas, your work, your vision, and your positive traits and make it their own. They will take all the credit because they are above you at the time and they can do it just because they can. They want to always copy what you do and try to do it better, but the problem is you're the only one with the vision and they are just "Haters". Sometimes its fun to watch a watered down version of you  JUST KEEP CLIMBING!
-Those who are at the top and will try to push you back down
These are people who have made it, and are a few more steps up the ladder than you, usually your boss or supervisor. They try to keep you from getting up to their level because they are insecure and afraid of competition. They will try to slow down your progress and kill your efforts on trying to get up there. They tend to forget that they were in the same position you are. But they don't realize true leadership and understand what being a mentor is all about. People that understand the true meaning of success will eventually outnumber fools like this. Remember it can get lonely at the top, so enjoy your money and fame for now. JUST KEEP CLIMBING!
- Those who will guide you up the ladder
You don't find these people to often because they are special. They've made it to the top with or without help and understand the hard work it took to get there. They tend to relate to the same steps you are climbing and want to help you along the way. You may not find this person but if you do they will see your true potential and help you. Remember people don't care how much you know, until they know how much you care. Always help and care for others. JUST KEEP CLIMBING!
-Those who push you…and the push some more
This can be family, friends, or some stranger that just means well and wants to help. You'd be amazed how many people you don't know can help you along the way. But these are people who would give their hearts and souls to see you reach the top. They constantly are giving you advice or encouraging you to never give up.  They understand and can see sometimes when we are down or when we are close to hitting rock bottom. They are the angels who fly beside us when we climb. JUST KEEP CLIMBING
My Message To You
Always remember the higher up you go on the ladder, the more dangerous it gets. The pressure on you to finish and reach your ultimate goal is greater. You have to accept that you will make mistakes, but you can't dwell on them. You have to understand that people will shit on you and not even care. But remember the more manure they throw on you the stronger you will grow. So with the higher you go up the ladder the oxygen and the conditions can wipe you out. You have to be even more focused as you climb the ladder. If you lose your focus for even a second, it can cost you. Even focusing on dropping back down and not the next step can be devastating. No matter the distractions, and the people who want to try and push you back down you MUST PERSIST no matter how many steps are left to the top-look only at the next step. It's the ability to focus on the precious present moment that is critical. That's why you JUST KEEP CLIMBING!
My Father's Words
  "Never be satisfied with success and where you are at, because that is where you will always be. Someone is always waiting to challenge that success and is ready to move right on in. Never let complacency get the best of you. The best leaders are wired to handle change good or bad and still maintain focus on the process"
So remember success is never final and failure is never fatal.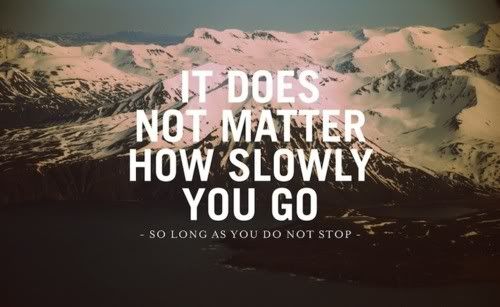 JUST KEEP CLIMBING!