Yoga vs. Hamstrings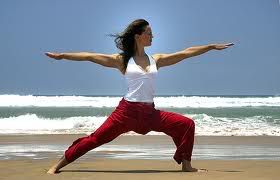 Yoga vs. The Hamstring
More often than not when talking about yoga someone has a weakness. Rather that's lower back, shoulders, or even the neck. But when we stretch what is the one muscle that always seems tight? The Hamstrings.  A lot of athletes and the general public have issues regarding their hamstrings. Either they stay sore, inflexible, or severely overstretched to the point of causing injury. Our hamstrings are very important because it's made of the three muscles that make up the back of the leg. If we cause injury to one of these muscles it could affect how we walk, sit or even stand.
THINK BEFORE YOUR STRETCH
Most yoga poses work the hamstrings in one way or another. A person with tight or flexible hamstrings has to be cautious when participating in yoga or any sort of vigorous stretching routine. The hamstring can get overstretched and overworked which results in little micro-tears within the muscle. Lets use a rubber band for example, if you place a rubber band in the freezer for about an hour and try to pull it apart it will break easily. Because it is cold and won't stretch easily, so the same goes for your muscle. If you are cold and start aggressively overstretching your muscle it is bound to cause damage. So make sure you are nice a warm before starting yoga or your stretching routine.
LETS HELP THE HAMS
Practicing regular yoga poses can help you to loosen tight hamstring muscles through regular, steady stretching. As with most stretching routines, it's important to cease exercising when you experience pain or strain in the muscles. Some other stretching routines that will help tight hamstrings are PNF stretches using a partner, and also using a band. In conclusion yoga is great for the mind, body and soul. It helps relieve stress and anxiety if taken seriously.
Example of some Yoga poses:
2 notes
whisperingsilhouette likes this
sheltongstevens posted this